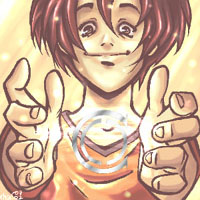 +OEKAKI CIRCLE+
since Jan, 28 th 2001

[Meo and Aurore, thanks for trusting us!]

+ How to use the board ?+
You have to register to be able to post comments and drawings.
Registration allows you to have your own gallery too.
If you click on the pencil icon next to the username,
you will see the author's gallery.
[ View the gallery ]

[ Draw on oekaki ]


Visit our collective site :




+Current rules since July 2001+
Understand that if you ignore these rules,
you might have your pics/comments
deleted for breaking them.

Add your comments in english.
The websites hosting this board are in english and 80% of visitors
are foreigners, so it is easier for them to understand comments in english.
If you have problems with english vocabulary, here is a translator :
http://world.altavista.com
+++
Pictures with no comment from their creator will be deleted.

+++

Due to the high number of users, there is a limit of
1 oekaki post per day
(the reference being the date on the board).
All extra pictures will be deleted.

+++

We expect quality drawings on this oekaki board.
You must have some experimented skill in drawing.
Please take your time and apply yourself to draw quality art.

Why this selection ?
Many oekaki boards are free of use.
We just attempt to do something else.
If you disagree with this policy, feel free to draw on another board.

Don't do quickies or scamped sketches.
Scamped and unsatisfactory
drawings might be deleted.

+++

If your oekaki is a copy or is highly inspired by another pic,
please, *always* credit the artist and/or give the url to
the original art.
This is common courtesy. Uncredited copies are art thieving
and won't be tolerated.

+++

We host a database with member's oekakis but don't forget to
always save your picture.
We usually delete old drawings when we need space.

+++

Please, stop arguing and stop sending e-mails to administrators
when you get your pic deleted.

+++

If you have technical problems with the board, please mail the
administrator : Suru.

+++

Thank you for taking the time to read these rules.
Have fun and come back.
+++
Custom Board by Suru
Current Administrators :
Meo, Saga Totem, Salayanara, Rusty,
Char, Cell